With 38 net new hires firm-wide, S360 grows stronger, broader and deeper in 2018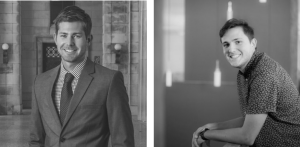 Seattle, WA – After a summer of impressive growth across the firm's western footprint, Strategies 360 is pleased to announce an expansion of its digital marketing team with the addition of Digital Director Ryan Bush and Digital Analyst Will Badenhausen.
This exciting new move positions S360's well-established digital advertising and communications practice for continued growth and success across the West. The move also provides S360's existing client base with more team members and cutting-edge services to help overcome obstacles and achieve the win.
"Strategies 360 is building one of the best digital marketing practices you'll find in the West and we're thrilled to welcome Ryan and Will to the team," said Strategies 360 CEO Ron Dotzauer. "Digital media is inextricably intertwined with everything S360 does in the communications world, hence the hiring investments. With Ryan and Will on board, we're looking forward to offering the most sophisticated, targeted and data-driven digital communications services in the country."  
As Digital Director, Ryan Bush will oversee campaign strategy and execution on S360's biggest and most complex accounts. He comes to the firm as former marketing manager for the Tennessee Department of Economic and Community Development, bringing nearly a decade of experience in digital and traditional advertising, events, media planning, branding, campaign strategy, and execution. In a further expansion of S360's digital marketing services, the firm is also pleased to welcome Digital Analyst Will Badenhausen. Will is joining S360 after working for a Salt Lake City-based advertising agency and will work to analyze and optimize the performance of S360's digital campaigns.
The new hires also highlight the unprecedented growth seen by S360 over the course of the last year. In 2018 alone, the firm has made significant investments to strengthen its service capabilities by adding new teams, broaden its footprint with major expansions in California and Hawaii, and deepened its network of unmatched professionals with 38 net new hires across the West.
With 20 offices in 12 Western states and Washington, D.C., Strategies 360 is the leading public affairs, communications, research, and marketing firm in the west. The firm also owns and operates its own in-house creative design and marketing practice, The Hilt. With experts drawn from the worlds of government, politics, the news media, quantitative and qualitative research, advertising, marketing and design, S360 crafts and executes the strategies that help clients succeed.